NC Judging Director:
Terri Costa
Email:
Terricosta@bellsouth.net

Web dev by
Julie King
Email:
jhking@nc.rr.com
What's New?
Upcoming Dates of Interest
October 31st: Testing Opportunity! Terri will be offering tests in NC. Registration is through the USA Gymnastics test registration website. Start studying!
Need a uniform? Land's End is running a 30% sale now and does periodically. Use code EMSAVE30.
A Tired, but Happy Crew: the SGPD State Meet Judges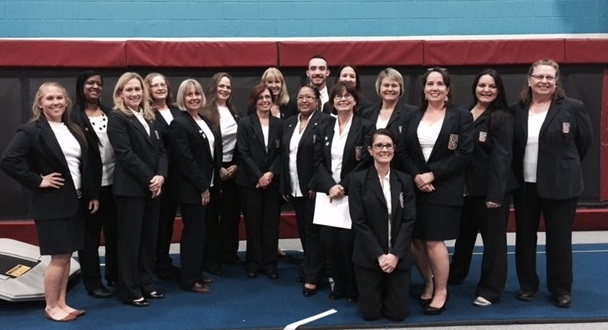 The judges in the picture above from left to right: Sara Duggan, Cindy Cotten, Karen Pleasants, Jeanne Hiesel, Maryann Smith, Laurel Flora, Diane Thompson, Julie King, Bertina Harris, Schuyler Hunt, Mary Wilkerson Hoagland, Paula Tugman (behind Mary), Jerri Burleson (in front), Portia Propst, Terri Costa, Melissa Ruffino, Jennie Adams.
Some clarifications
The updated special requirement #3 for L6 Bars is the following: One 360° Clear Circling element from Groups 3, 6 or 7. It may NOT be an element performed with hips on the bar during or at the completion of the circle. Front / back hip circles or sole circles do not fulfill this SR.
Be aware of the Gold UB cast requirement changes. There are no cast amplitude deductions for the Gold level, so the gymnast either achieves one cast to horizontal - and meets the Special Requirement - or she doesn't, and .5 is deducted from the Start Value.
The roundoff dismount on BB is now added as an 'A' skill.
While in some previous years a Bronze gymnast could do a chasse + leap combination to meet the dance passage requirement, it does NOT meet the requirement now. Other combinations that have been seen this year that do not meet the requirement are leap + bent knee hop (from the compulsory routine), leap + straight jump. Neither the bent knee hop nor the straight jump are "A"s on floor and are not listed on the Bronze skills chart.
Be very aware of the front salto position. Gymnasts are not allowed to do a front pike until the Platinum level, since the Gold level does not allow a B salto on floor.
If a coach provides verbal directions to the gymnast (for instance, saying "tuck jump" to a gymnast who forgets what to do next) the chief judge should take the deduction on this routine rather than just giving a warning.
Is it possible to connect a cartwheel and roundoff in a floor routine? Yes, this is not an impossible connection. Of course, it depends on the foot placement and technique the gymnast demonstrates as in any connection, but many cartwheel-cartwheel or cartwheel-roundoff combinations have been connected this season.
On Bars, a Platinum gymnast can not do the swing with a half turn dismount (that IS allowed at Gold) since that dismount is not an 'A" skill.
AAU membership code
Judges must have an AAU membership if they are going to judge an AAU meet. The NC AAU Gymnastics website has the links for AAU membership registration. When you register, make sure that you use WW6AC8 as the team code in order to link to the Team North Carolina league. You can submit this expense to Terri Costa if you have available education account credit for reimbursement. Please make sure to go to the NC AAU website to download any rule updates before arriving at your meet.
A Map of all USA Gymnastics clubs in the state
While not all these gyms participate in competitions, the number of gyms which do participate is always growing. Thus, the need for more judges! If you are interested in becoming a judge, go to the New Judges section for some helpful references.